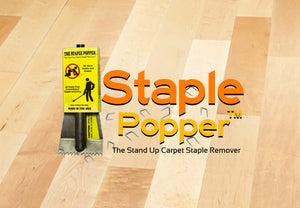 The Staple Popper Stand Up Carpet Staple Remover Tool
Creative Design With Full Power: The staple popper is uniquely designed in order to facilitate the user with optimum ease and practicality. The stainless steel blade, equipped with patterned teeth, is laid flat in order to remain flush with the flooring while the wheels gently guide the teeth naturally underneath any staples. Once under the staples, the handle provides an optimum 42 degree angle from the floor so that minimum pressure is needed to pop the staples out of the wood. This ideal pivot point, paired with the flush surface point of the teeth, guarantees a smooth finish that prevents any scratching or damaging of the hardwood flooring.
The Staple Popper can dramatically reduce the time spent on the job, as well as time spent on your hands and knees, when compared to other damaging methods such as hammering staples in or applying an ice scraper to the floor. Using the Staple Popper allows you to stand upright at all times and requires minimum pressure or strength of the arms while the poly hand grip diminishes any hand cramping or tightening. Not only does this product keep you up off of your hands and knees, it also prevents any scratches or damages to the wood flooring, protecting the floor for future use. Replacing old, conventional staple removal methods with the new and inventive Staple Popper will save you hours and hours of time and aggravation, getting the job done quicker and more efficiently.
Great for hardwood floor refinishing

To be used for the removal of carpet staples only
---